Free advice or a quotation? Call our consultants on 0180 514 822, or fill in your wishes and we will call you.
Specialist in infrastructural and civilian demolition works
Our demolition company has ample experience with complex infrastructural and civilian demolition projects. Bridges, viaducts and tunnels are just a few examples that have been demolished by us efficiently and expertly. Often, these demolition projects must be carried out within a short time frame during a temporary closure. Struijk has shown several times through solid preparation, a tight schedule and use of the right equipment that it is specialized in this.
Struijk has demolished bridges and viaducts on the works below:
4 viaducts and 4 culverts for the enlargement of the A2 motorway
12 viaducts for the enlargement of the road network for the 2nd Coentunnel in Amsterdam
1,500 meters of sound barrier for adjustment of the road network for the 2ndCoentunnel in Amsterdam
4 viaducts, 2 bridges and a few hundred meters quay wall Utrecht CS - Lunetten
Adjustment viaducts and bridges for the reconstruction of the N57 Middelburg.
1,400 meters of concrete platform roofs at CS Rotterdam.
Passengers' tunnel CS Rotterdam, c. 2,500 m3 of concrete.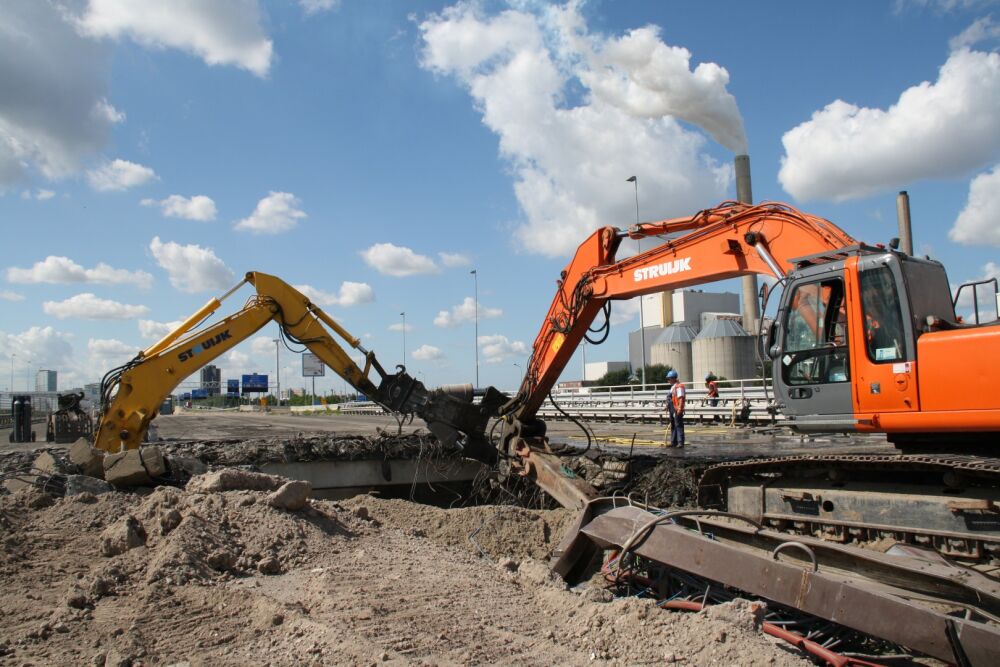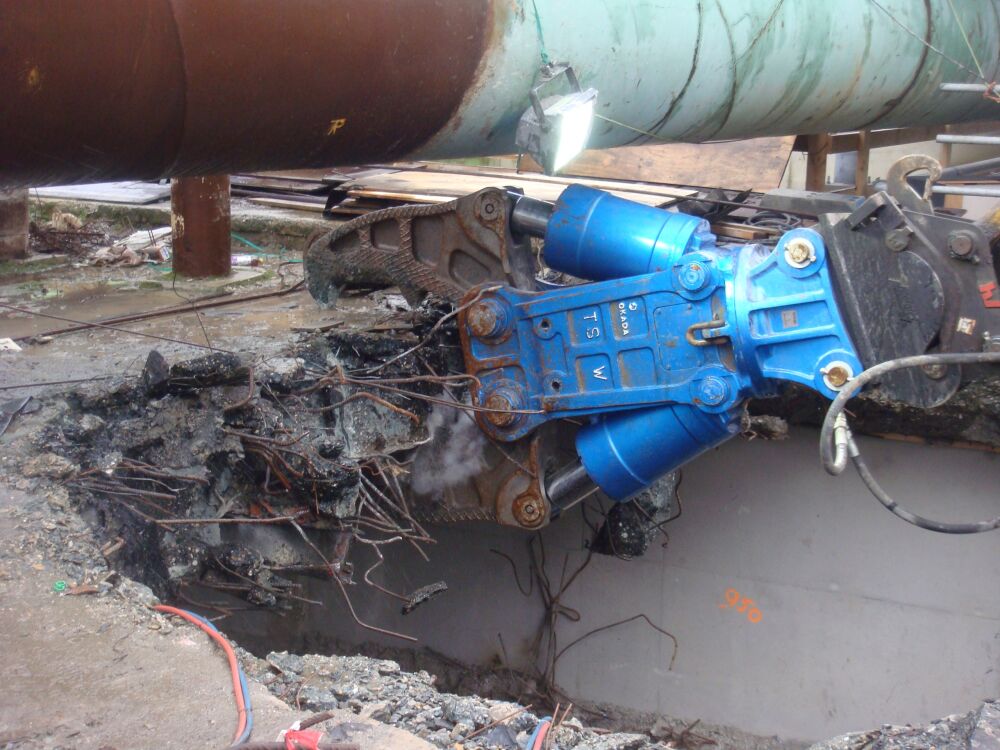 Limit disturbance
If disturbance is undesirable during demolition, we can, for instance, install mudguards for the traffic. If the roads below must not be damaged, we can protect them completely. And if hazardous substances are present in the object to be demolished, we can remove these safely and without risk for the environment. Minimum sound, vibration and dust pollution?
Struijk has its own bolt cutter of Okade. Through the use of the bolt cutter, vibrations and thus disturbance are greatly reduced. The bolt cutter has a jaw opening of no less than 180 cm and can handle the heaviest concrete constructions. On the photo on the left the cutter is seen in action during the demolition of the metro tunnel of Rotterdam Central Station.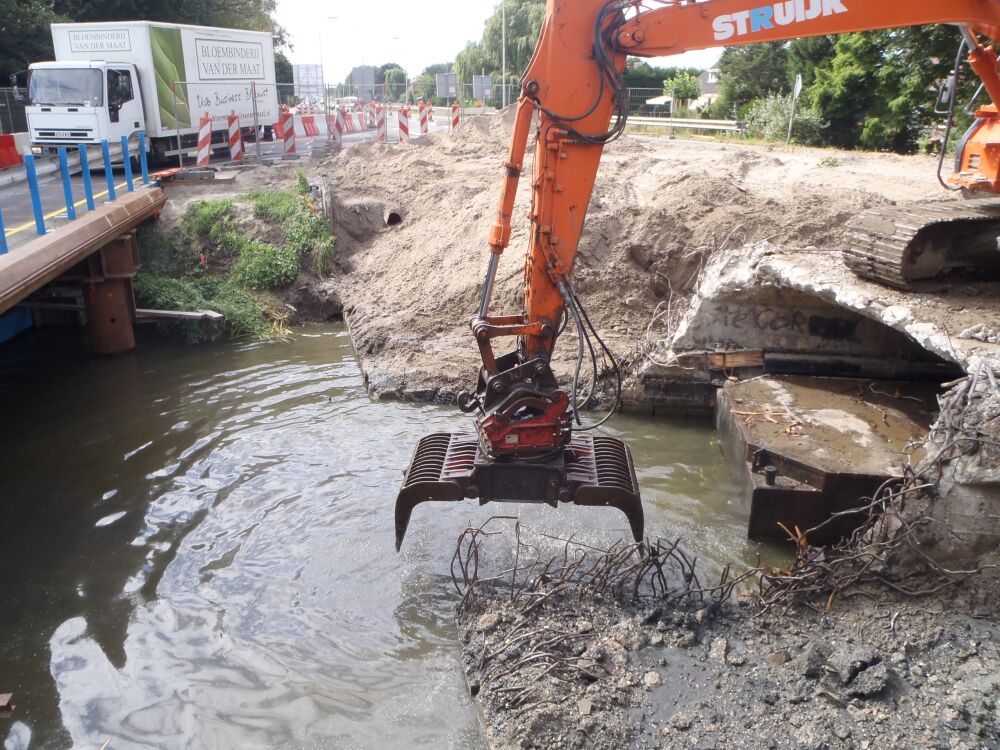 Pontoons
Struijk has its own pontoons which are used for collecting rubble during the demolition of bridges. On the photo to the right a bridge in The Hague is demolished and the rubble is collected.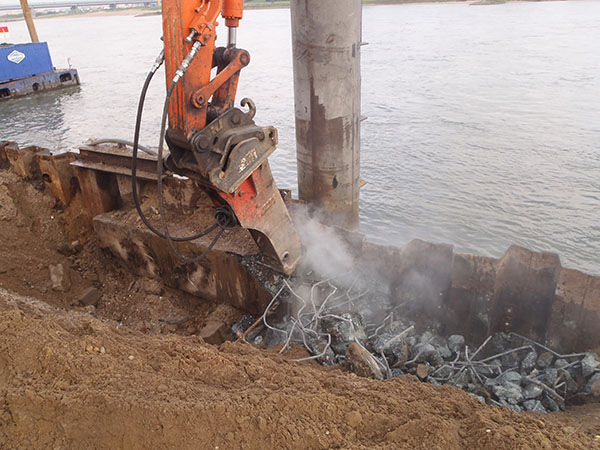 Certified demolition works
Demolition is our trade and we have the required knowledge and accompanying certificates, including ISO 9001, SVMS-007 and VCA-Petrochemics. Fully certified for carrying out any infrastructural demolition project efficiently and high-quality. As we work only with our own equipment and staff, and are critical when choosing a partner, we can guarantee punctual and high-quality work as a demolition company.
Struijk as the demolition company for your project?
Do you want to know more about our work method as a demolition company or a quotation without any obligations? Then use our contact form or call us on +31 (0)180 514 822. We will take care of your demolition works meticulously.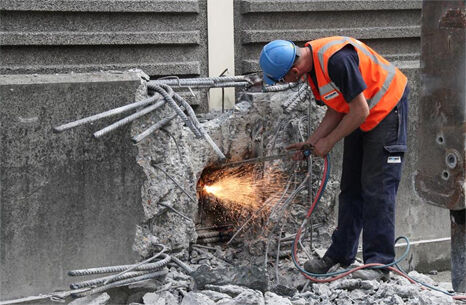 Why you choose for Struijk:
Experienced specialists
Quality before all else
Down-to-earth, tailored advice
Since 1938